Intent
At St John the Evangelist Catholic Primary School it is our intent to nurture and develop the whole child. We strive for all of our children to be Primary Literate Pupils. The overarching aim for English in the national curriculum is to promote high standards of language and literacy by equipping pupils with a strong command of the spoken and written word, and to develop their love of literature through widespread reading for enjoyment.
We aim to ensure that all pupils;
Read easily, fluently and with good understanding;

Develop the habit of reading widely and often, for both pleasure and information, knowing that reading is a wonderful relaxation tool and enhances mental health, as well as developing knowledge. We aim for them to be able to identify a number of authors and a genre/genres they enjoy reading;

Acquire a wide vocabulary, an understanding of grammar and knowledge of linguistic conventions for reading, writing and spoken language;

Appreciate our rich and varied literary heritage;

Write clearly, accurately and coherently, adapting their language and style in and for a range of contexts, purposes and audiences;

Use discussion in order to learn; they should be able to elaborate and explain clearly their understanding and ideas;

Are competent in the arts of speaking and listening, making formal presentations, demonstrating to others and participating in debate.
Implementation
At St John the Evangelist, the English curriculum is taught using a variety of resources to engage children and enhance learning, the most important of these being high quality, challenging texts that link with other curriculum areas. The curriculum is constantly evolving to illustrate this and the Subject Leader and school staff constantly look for new texts to support the curriculum and development of skills. We prioritise time to read to children to further develop their love of reading and model reading for pleasure and enjoyment, developing vocabulary and feeding pupils' imagination, opening up a treasure-house of wonder and joy for curious young minds. Links are made to other areas of the curriculum through cross-curricular writing, performance poetry, debate, reading and the use of computing to write, publish and communicate in a variety of ways.
Impact
The impact of the engaging, rich, literate curriculum is evident in the oracy skills, passion for reading and range of writing that children of all ages produce across the school.
Phonics
We teach Phonics daily in Reception and Key Stage One, following a structured, synthetic phonics programme, 'Letters and Sounds'. Our children are taught using multi-sensory, engaging activities and resources, both discretely and within continuous provision activities if appropriate for the year group. Each session gives an opportunity for children to revisit their previous experience, be taught new skills, practise together and apply what they have learned.
Reading
From Year 2, our children benefit from two planned whole class guided reading sessions each week, which incorporate the different content domains using our Reading Gems: enjoy, decode, define, retrieve, sequence, infer and predict. Reception Class and Year 1 have weekly group/ guided reading sessions.
Click on the logo below to see the Reading Gems for Key Stage 1 and Key Stage 2, with examples of reading question stems;
We encourage reading for pleasure and teach reading through a variety of colour banded books from the Bug Club reading scheme and
children also have access to a vast resource of books in our class and whole school libraries.
Our Green Reading scheme is introduced in Reception Class and continues throughout school, to encourage further reading practise and reading for pleasure at home. Our aim is for children to read and talk about their books and read independently every day. We understand the importance of parents and carers in supporting their children to develop both word reading and comprehension skills.
We ask that each day a child reads, their parent/carer signs in the comment box.
Each Monday, we will see if each child is a green reader (by having read for at least five days in the previous week.) At the end of each half term, there will be a reward for children who have managed to be a green reader every week.
We are lucky to have an extensive library in school, including a story sack library for our younger children. The children are encouraged to regularly visit and borrow books from our library.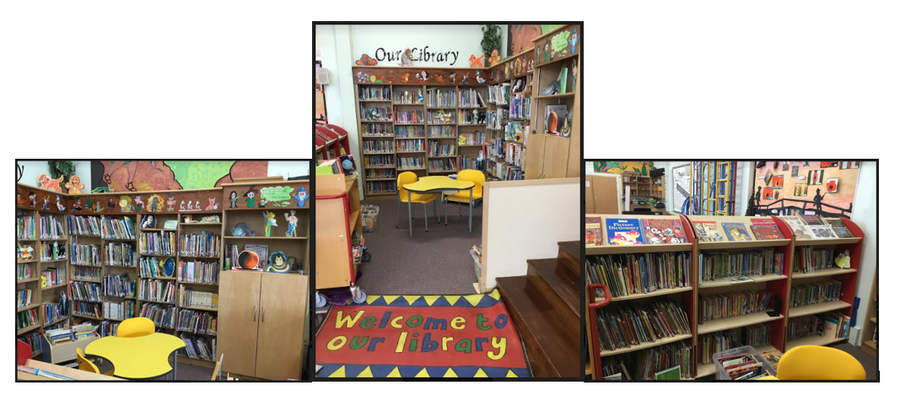 We also have our very own 'Starbooks Cafe' in Key Stage 2!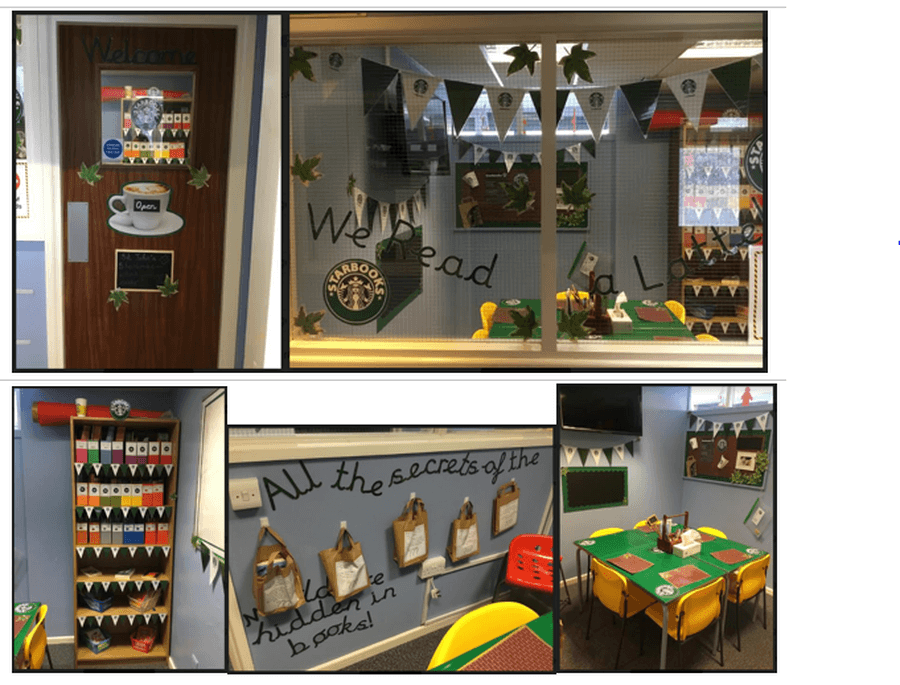 Each class has their own reading area with a class library and resources to aid them in their learning.
In Reception and Key Stage 1, we focus on early reading skills, such as decoding, fluency and simple comprehension.
By Key Stage 2, pupils should be able to read books written at an age- appropriate interest level. As their decoding skills become increasingly secure, teaching is directed more towards developing their vocabulary and the breadth and depth of their reading, making sure that they become independent, fluent and enthusiastic readers who read widely and frequently.
Our whole school reading scheme includes a variety of colour banded phonically regular books following the Bug Club scheme. All children have access to Bug Club both in school and at home. Teachers allocate books at each child's individual reading level to ensure that all children are reading a suitable book band for their age and level of attainment.
Click on the logo below to open a link to our Bug Club login page.
Writing
Throughout school we use a text led approach. Our children experience a range of text genres, aimed at broadening their knowledge of high quality text types and engaging them in literature.
We follow Philip Webb's five phase approach throughout school.
The five phases are Prediction, Features, Sentence Structure, Composition and Editing. The phases are modelled on English working walls in all classes.
Philip Webb's three phase approach is used in Reception (Prediction, Understanding and Writing).
Letter-join
From Reception and throughout Key Stage 1, we teach and encourage children to write in pre-cursive script.
From Key Stage 2, joined handwriting should be the norm; pupils should be able to use it fast enough to keep pace with what they want to say.
This is supported by the Letter-join cursive Handwriting Scheme which is used both in school and at home.
Click on the logo below to go to the Letter-join website;